Data Protection Services
Benefit from our extensive knowledge and shared best practice of a whole team of data protection professionals with education sector expertise - providing expert advice and guidance when you need it.
We help your school comply with the various UK Data Protection laws, including UK GDPR, dealing with the Information Commissioner's Office (ICO) and acting as your Data Protection Officer (DPO).
Unlimited Advice
Team of Data Protection Experts
Compliance Dashboard
Our Data Protection Service includes
Providing expert advice and guidance when you need it
We provide designated specialist consultants who will advise you to comply with the UK GDPR and other UK data protection laws. We provide an unlimited framework of support for you by phone or email.
Creating and maintaining data records
We know the processing of data can be overwhelming. We support you to create and maintain comprehensive records of all the data processing activities carried out by the school or MAT, including the purpose of all activities, which must be made public upon request.
Drafting data policies and procedures
We assist you to create and maintain policies and procedures to regulate your processing of personal data, setting out how to interact with external bodies, regulatory authorities, data subjects and information seekers.
Providing training for employees
Tailored for schools and MATs, we provide training for your employees on compliance with UK GDPR and other UK data protection laws. Training is provided in two workshops and online via our eLearning platform.
First point of contact with authorities
We will be the first point of contact for supervisory authorities and for individuals whose data is processed.
Managing data requests
We will help manage responses to subject access requests and freedom of information requests. This includes overseeing the data collection process, as carried out by your employees under our direction, drafting correspondence with the data subjects and regulatory authorities.
Conducting an annual audit of your data processes
We conduct an annual audit to provide an assessment of whether your school or MAT is following best practice. The audit includes recommendations, guidance and an overview of compliance.
JEDU Compliance Dashboard
Get access to JEDU, our compliance dashboard. JEDU allows you to record and view all your data requests and breaches. Also, live-track your audit and compliance progress, access template documents and carry out data mapping all in one place (see below).
Access all your compliance documents using
our Compliance Dashboard.
JEDU is our online UK GDPR compliance tracking software

for schools and MATS.
A leading tool for senior school and MAT leaders.
UK GDPR compliance dashboard for school leaders
Monitor compliance levels and drill down into danger zones within each school

See which areas of non-compliance remain outstanding at any one time

Record and manage data breaches, subject access requests and freedom of information requests with notifications to ensure they are dealt with in legal time limits

Compare the number of breaches and data requests received and monitor progress

Access template documents designed to assist you in meeting data protection compliance

A data mapping tool allowing you to easily record and manage your processing activities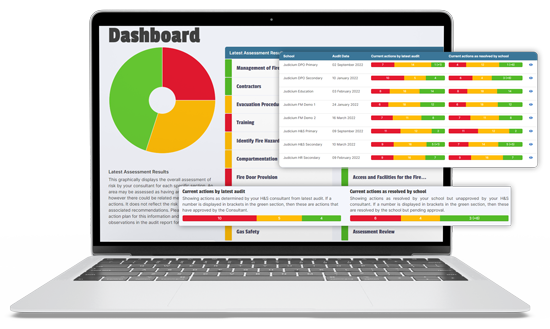 Judicium's advice is robust, unequivocal and swift. They guarantee to respond to your query within 24 hours and always direct their approaches to the outcome you desire. This is in total contrast to the advice that we previously received."
Alan Chappell | School Business Director | Blue Coat CoE School
Frequently Asked Questions
You are required to have a DPO if: -
You are a public authority or body
Your core activities require large scale, regular and systematic monitoring of individuals
Your core activities consist of large scale processing of special category data/criminal offence data.
Most schools will be required to have one under (1) so it is likely you will be required to have a DPO. Even for those schools who do not require a DPO, most will usually appoint a DPO as good practice to help ensure they don't fall foul of the UK GDPR regulations.
This will help you ensure you have an appointed specialist. All our consultants are experts in both data protection and education and can provide up to date, practical advice on data protection compliance. As an independent company we will provide reasoned advice to your organisation and any stakeholders.
No – our audit is designed to help assist your organisation in meeting data protection compliance. We will provide an action plan with recommendations on how to meet and improve your compliance levels. Delaying an audit can mean it will take longer to get up to the levels expected from the Information Commissioner's Office (ICO).
It is not mandatory but collating the requested information in advance can help save time during the audit. Details of documents that we will need to view will be sent to you in advance.
Yes, all staff who handle/process personal data are required to complete data protection training. We provide training materials for you as part of the DPO service and can advise you on the training requirements for each post holder.
Very simple. You can submit your enquiry using the form above. We endeavour to provide a response to your enquiry within two business days. If your query is urgent do label the email as such or call in and we should be able to assist within your deadlines.