Fire Risk Assessment Service
We carry out a comprehensive annual Fire Risk Assessment to identify issues requiring attention with a clear action plan of recommendations.
Our fire risk assessment is practical and systematic. It helps ensure your fire safety procedures, fire prevention measures, and fire precautions are all in place.
Unlimited Advice
Free Access to JEDU
IOSH members
Some of the key areas that form part
of the fire risk assessment are:
Specific fire management of your building
PEEP (Personal Emergency Evacuation Plans)
Assembly points, use and location
Suitable occupation / use of your building (all areas)
Fire compartmentation and premises inspections
Management of contractors and hot works procedures
Schools with our Health and Safety support package receive continued advice and guidance on fire safety management from their assigned consultant and the Judicium Education Health & Safety Team. All fire risk assessments are completed by qualified fire risk assessors.
Access all your compliance documents using our Compliance Dashboard.
JEDU is our online Fire Risk Assessment dashboard

for schools and Multi Academy Trusts.
A leading tool for busy school senior leaders.
Fire Risk Assessment dashboard for school leaders
Monitor overall assessment of risk for each key area via the education specific dashboard

View your schools action plan for recommended and required improvements
Compare:
School leaders can track progress towards completion of tasks

MAT leaders can see all schools in their group via the easy dashboards

MAT leaders can track progress towards the completion of all recommendations across their schools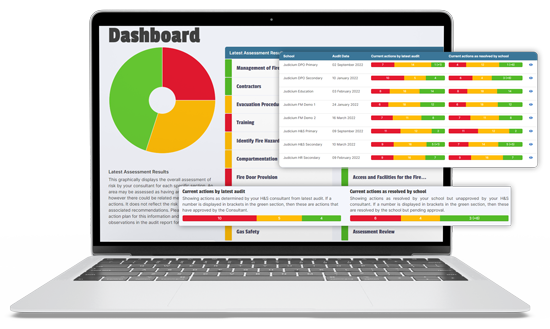 Health and Safety has always been a difficult area for us; we simply don't have the knowledge or expertise to carry out all the risk assessments ourselves. Judicium's down to earth approach and simple to read policies and documents are a refreshing change."
Paul Tuffin | Head Teacher | Southfields Primary School
Frequently Asked Questions
We will send you a list of documents and a format for the visit. We don't expect you to have all the information we need but the consultant will discuss this with you and ensure we can review the significant documents. The audit is a process
The first visit is the starting point. Over time our working relationship will develop and you will work with your assigned consultant to complete all that is required. We will work with you during visits and remotely, whenever needed. Our consultancy work is much more than just your audit meeting.
The school is required to provide appropriate health & safety training for the work that is being completed. The level and subjects depend on the person's job role. Through our service, you have unlimited access to our comprehensive e-learning library of school-specific CPD-accredited courses. This enables you to assign suitable courses to each employee.
In addition to e-learning, we offer face-to-face training for those who require such training. By using our service you are able to successfully demonstrate that you comply with legal requirements for providing appropriate training for all employees.
A fire risk assessment must be written by a competent person. This includes training and experience. Our consultants are both highly trained in fire risk assessment and have extensive experience in school-specific fire risk assessment. You can be confident that we provide the very best competent people to complete your assessment.
We understand the unique challenges faced by schools and school leaders in complying with fire safety while managing a school. We understand, through experience, exactly how those in schools use the buildings. This may not always reflect the way the school was designed. We are skilled at providing solutions.
Our consultant will send a detailed list of information they need to review. They will complete a comprehensive process with you, looking at how the school has been designed, is being used, and any issues that have been identified.
The consultant will inspect each area of the school with you. We will address any questions or concerns you have and will provide you will a detailed fire risk assessment with a clear action plan of recommendations. We provide ongoing support and guidance throughout the school year, not just at the assessment.
Each visit results in a report. These can be viewed on our online JEDU platform. You can download the whole report, just the action plan or the related data. Schools are able to assign actions to individuals, update progress, and provide evidence that the required work has been completed.
All reports are easy to access, and can be used in internal reports as required. If you are part of a multi-academy trust, you are able to view the results for all your schools on our JEDU MAT dashboard. This an invaluable tool, displaying live data, as actions are being completed. The Jedu platform is available for health & safety and Fire risk assessment reports.
Every client has access to a comprehensive library of guidance, template, policy, and update/newsflash documents. Each one can be downloaded and amended to suit your needs. If there are legal changes or new documents are required, we simply upload them for your access. All documents are available on our JEDU platform.