Employment Law: Demystifying Misconceptions About Flexible Working Requests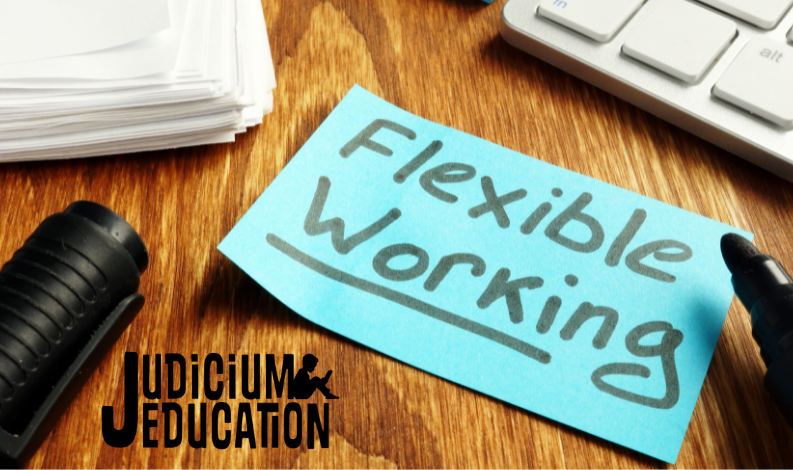 Employment Law: Demystifying Misconceptions About Flexible Working Requests
Subscribe
Receive valuable content like this direct to your inbox by
subscribing to our newsletter
This summary is based on Judicium's HR 'Sofa Session' from the 15th of June, with our resident expert Jenny Salero, LLB (Hons), L.P.C. This session focused on the rights of employees and employers when dealing with flexible working requests; the key steps needed to deal with a flexible working requests fairly; and the reasons for which flexible working requests can fairly be refused and how to go about this, when the outcome is likely to be unpopular with the member of staff.
Historically formal flexible working arrangements were only available for those in carer positions, but in 2014 the right to formally request flexible working was expanded to apply to anyone who is an employee who has been employed for more than 26 weeks.
But what is flexible working?
It's a request from an employee to make a change to hours, days, or place of work. Some examples include a request for a job share, term-time only working, annualised hours, or working from home to name a few.
Since the pandemic there has been a shift in the way employers think about flexible working, with a move to accept more flexible working requests where possible.
5 Key Elements to Flexible Working Requests
1. Right to request only
The employee has a right to request flexible working, but not the right to work flexibly. Whether the employer is able to grant that request depends on various factors and organisational needs. It is not a guaranteed or automatic right that the request will be granted.
2. There is no legal requirement for a flexible working request policy
The framework for flexible working requests is set out within legislation and a best practice guide is available from ACAS . We at Judicium can also support with a flexible working request policy.
NB: Despite no legal requirement, we would strongly recommend that you have a flexible working policy in place, which you can receive from your HR provider. All SLT/line managers should be familiar with the policy and know where to refer staff to access it, which helps maintain consistency and fairness
3. Informal requests
Within a policy we would expect to see an informal procedure before moving on to the formal process.
These can be made by anybody at any time and can often be a quick chat with a manager or SLT asking for changes to work arrangements.
There is no limit on the number of informal requests an employee can make.
One benefit of these is if they can easily be accommodated, you don't need to have formal meetings, discussions or union involvement. You can simply confirm the agreed changes in writing. The informal request process can be both time-saving and amicable.
If a request would require more discussion or is more difficult to approve, you can recommend the employee submit it via the formal process, provided the employee is eligible to do so.
4. Formal requests
It should be outlined in your policy that to make a formal request the individual must be an employee, must have been employed for 26 weeks prior to submission, and must not have made a formal request within the previous 12 months.
The employee should set out in writing the following:
What they are asking for, including the hours they are currently working, the changes they are proposing, and when they would like the changes to start.
The reasons behind the request
Suggestions as to how any impact of their proposals on staff, pupils and the school may be ameliorated or minimised, should the request be approved.
The school then has 3 months from the date of the application to hold meetings with the employee, provide them with an outcome and deal with any appeal if required.
NB: The school can agree in writing an extended date with the individual (This is often the case when an employee going on maternity leave submits a request for a change that would not apply for months or years later).
During the formal meeting process, if the proposed arrangements are deemed unsuitable the school is not legally required to provide alternative options. However, we find most senior leaders are willing to bring alternatives to the table at this stage.
Top Tip: We suggest at the conclusion of formal meetings to inform the employee you will take time to think about the request and respond as soon as you can. This dispels any notion of making a preconceived decision prior to the meeting.
If the employee does not like the outcome, they have the right to appeal.
If an individual makes a formal request, they cannot put in another formal request for a period of 12 months.
5. Requests are dealt with on a first come, first served basis
All requests must be assessed as they are submitted, therefore on a first come, first served basis.
You must look at the request at the time you receive them. Just because you have agreed one request, it does not necessarily set a precedent for other requests.
Reasons for Refusing a Flexible Working Request
The reasons for refusing a flexible working request are quite broad.
In the formal process we advise you give the verbal and written feedback under the below headings so it is clear the refusal is in line with the legislative framework.
Burden of additional costs

A detrimental effect of the ability to meet the demand of the school's students

The inability to reorganise work amongst existing staff

The inability to recruit additional staff

A detrimental impact on quality

A detrimental impact on performance

Insufficiency of work during the period the employee has proposed to work

If there are essentially plan changes in future, e.g. a restructure.
One or more than one of the above reasons can be given. You can suggest an alternative working arrangement or put in a 'counter offer' or the formal meeting and/or as part of any refusal of the original request.
If the employee is not satisfied with the outcome, they may submit an appeal, which is the final stage in the process.
Depending on what your policy states, it is usually heard by a Governor's panel or Board of Trustees.
5 Key Takeaways for Handling Flexible Working Requests
Make sure that you have an accessible flexible working policy in place and ensure managers who may receive requests know how to handle them.

Deal with any quick, easy requests informally to save time and/or stress for everyone involved.

Ensure any decision after a formal meeting follows in writing.

Ensure any changes to working patterns (whether agreed informally or formally) are confirmed in writing with a variation letter. This should avoid any miscommunication.

Remember, although you may wish to support your member of staff and agree to the request there is no obligation to do so!
Helpful Links:
ACAS Flexible Working - https://www.acas.org.uk/flexible-working
If you'd like to review Judicium's forthcoming sofa sessions for the remainder of this academic year please click here
Follow us on Twitter: @JudiciumEDU
© This content is the exclusive property of Judicium Education. The works are intended to provide an overview of the sofa session you attend and/or to be a learning aid to assist you and your school. However, any redistribution or reproduction of part or all of the contents in any form is prohibited. You may not, except with our express written permission, distribute or exploit the content. Failure to follow this guidance may result in Judicium either preventing you with access to our sessions and/or follow up content.